Asia Bibi's lawyer flees Pakistan in fear for his life, associate says
Posted on : November 5, 2018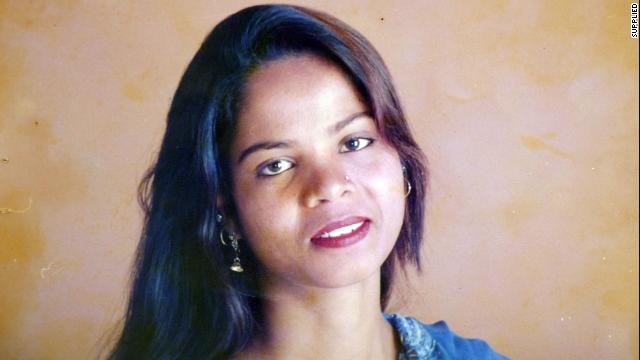 Karachi, Pakistan (CNN)The lawyer representing a Pakistani Christian woman acquitted of blasphemy after almost eight years on death row, has fled the country in fear for his life, an associate told CNN on Sunday.
Two days later, an associate who asked not to be named for security reasons, told CNN that Malook had left the country "for Europe."
He added that the Supreme Court acquittal had initially "created a ray of hope" and that Bibi's family "were excited that we would meet her soon."
"My daughters were dying to see her free," Masih told DW. But he said Bibi will now have to stay in prison until a review petition — submitted by the Islamist movement TLP — is decided.
In an effort to end protests, the government
on Friday struck a deal with the TLP movement
— including agreeing not to oppose a review petition filed against the Supreme Court's judgment. The petition is not legally binding at this time.
The government also pledged not to oppose a TLP application to add Bibi to a list preventing her from leaving the country. And the government agreed to release everyone detained in connection with the protests.
Bibi's husband Masih told DW that the deal had "sent a shiver down my spine."
"My family is frightened, my relatives are frightened and my friends are also frightened," he said, adding that the judges had "delivered the verdict after taking into account all aspects of the case."
'Taking revenge'
Bibi, a mother of five from Punjab province, was convicted of blasphemy in 2010 and sentenced to hang after she was accused of defiling the name of the Prophet Mohammed during an argument a year earlier with Muslim colleagues.
The workers had refused to drink from a bucket of water Bibi had touched because she was not Muslim. At the time, Bibi said the case was a matter of women who didn't like her "taking revenge."
On Wednesday, she won her appeal against the conviction and death sentence.
The TLP had previously vowed to take to the streets if Bibi were released, and large protests broke out in Islamabad and Lahore soon after the ruling was announced.
Under Pakistan's penal code, the offense of blasphemy is punishable by death or life imprisonment. Widely criticized by international human rights groups, the law has been used disproportionately against minority religious groups in the country and to go after journalists critical of the Pakistani religious establishment.
Bibi's case has attracted widespread outrage and support from Christians worldwide. Conservative Islamist groups in Pakistan have demanded the death penalty be carried out.
Read more: https://www.cnn.com/2018/11/04/asia/asia-bibi-lawyer-flees-pakistan-intl/index.html
Related Product