British grandparents murdered in Jamaica
Posted on : June 25, 2018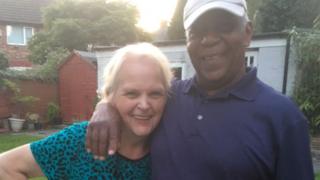 Two British grandparents found dead at their home in Jamaica are thought to have been murdered, police have said.
Charlie Anderson, 75, and his wife Gayle, 71, from Manchester, had recently retired to the Caribbean island.
They were found dead by neighbours in their home in Mount Pleasant on Friday afternoon.
Their sons said in a statement they were "completely devastated" by the deaths of the "hugely popular" couple.
The couple, who were also known as Halford and Florence, lived in a rural community in Hope Bay, Portland, on the north-east of the island.
High murder rate
It has been reported locally they had recently called in police to investigate money they said had been fraudulently taken from a credit card.
Jamaican police confirmed they were involved in another ongoing investigation but said they had not yet established a motive for the killing.
The couple's deaths come as Jamaican authorities seek to tackle a crime wave which has resulted in more than 1,600 murders in 2017.
So far this year more than 600 people have been killed, including seven people who had returned to the island after living abroad.
'Terrible tragedy'
A limited state of emergency has been put in place in two high crime areas in an effort to cut the murder rate.
In a statement, the couple's sons said: "Our parents Charlie and Gayle enjoyed a long and happy marriage of 55 years and leave behind their four grandchildren and one great-grandchild.
"They were hardworking people, building a business with integrity and making sure we were always provided for.
"Charlie and Gayle were pillars of the community in Manchester and Jamaica, and were hugely popular and loved by many.
"They were just beginning the next chapter of their lives, retiring to Jamaica before this terrible tragedy.
"We would like to thank our friends, family and community for their prayers and support.
"We are completely devastated and ask for privacy at this extremely difficult time."
Read more: http://www.bbc.co.uk/news/uk-england-manchester-44594876
Related Product