FAA Orders Emergency Engine Checks After Southwest Fatality
Posted on : April 21, 2018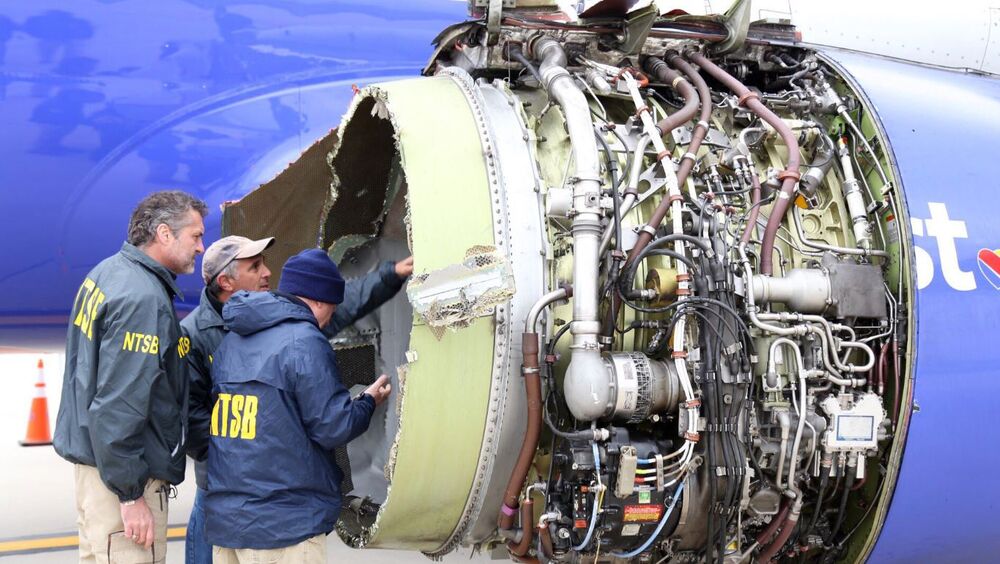 Some inspections must be done within 20 days, U.S. agency says

Directive follows service recommendation by engine maker CFM
U.S. aviation regulators ordered emergency inspections of one of the world's most popular jet engines after the fatal accident this week on a Southwest Airlines Co. plane.
The Federal Aviation Administration order covers an estimated 352 CFM International Inc. engines in the U.S. that have made at least 30,000 flights, the agency said in a statement on Friday. The emergency order is effective immediately, and inspections must be completed within 20 days, the FAA said.
The European Aviation Safety Agency is adopting similar requirements, said a person familiar with the matter. There are 681 of the engines worldwide with that many flights and regulators in other nations generally follow the FAA's lead.
The inspections aren't expected to disrupt travel, although they will create logistical headaches for airlines with large fleets of Boeing Co. 737s, most of which are powered by the affected engine, said aviation consultant Gary Weissel.
The largest American carriers should be able to schedule aircraft for checks for microscopic cracks during overnight stays at maintenance hubs. Their biggest challenge will involve quickly getting a sufficient number of mechanics and ultrasound scanners in place, Weissel said in an interview. "An airline is going to do absolutely everything it can to not take a plane out of service," he added.
The FAA order adds to the scrutiny of the CFM56-7B, the type of engine that blew out on Southwest Flight 1380 on Tuesday. Investigators say a fan blade broke off in flight, triggering a chain of events that shattered a window on the Boeing 737-700.
A passenger, Jennifer Riordan, who was a vice president at Wells Fargo & Co. in New Mexico, was killed after being partly sucked out of the opening. The plane, en route to Dallas from New York, made an emergency landing in Philadelphia.
Related: Violent Wind, Flying Debris: What Happens When a Plane Ruptures
The FAA said it ordered the accelerated inspections in what is known as an airworthiness directive because metal fatigue in a fan blade "is likely to exist or develop in other products of the same design."
Southwest's existing engine maintenance program "meets or exceeds" all requirements in the new directive, the airline said in a statement on Friday evening.
Engine maker CFM, a joint venture between General Electric Co. and Safran SA, issued a service bulletin recommending stepped-up checks because the fan blades on the engine that failed on Tuesday wouldn't have been covered for immediate inspections under the earlier standards.
Engines with at least 20,000 flights — or what the industry refers to as "cycles" — must be checked for cracks by the end of August, CFM said. After the fan blades are inspected on the engines, the company said it recommends that they be reexamined after 3,000 flights, which equals about two years of airline service.
The order would have required an inspection on the engine that failed Tuesday, said the person familiar with the action, who wasn't authorized to speak about it. CFM had previously recommended airlines first inspect engines with 15,000 flights or more, but the engine involved in Tuesday's failure had only 10,000 since its last overhaul and wouldn't have been immediately checked.
Passenger Fatality
The incident raised a number of questions because jet engines are certified to be able to withstand a broken fan blade without causing major damage.
The manufacturer had issued two service bulletins last year calling for additional inspections of fan blades on the CFM56-7B engines following a similar episode in 2016 on another Southwest plane.
In the earlier case, a fan blade fractured and broke loose, bouncing in front of the engine's protective cover and then striking the plane, causing it to lose pressure. No one was injured and the plane made an emergency landing.
The FAA last August notified carriers it was prepared to require inspections based on CFM's service bulletins, but hadn't finalized those inspections. The agency announced Wednesday it would issue those orders within weeks.
Out of about 14,000 CFM56-7B engines in operation around the world, about 680 will be subject to the inspections within 20 days, the company said in the release. More than 150 of those have already been checked by operators, it said.
Airline Inspections
Inspections can be conducted without having to dismantle an engine and it takes about four hours per engine. CFM recommends that airlines use an ultrasound device, which can detect small cracks beneath the surface.
Southwest, American Airlines Group Inc., Delta Air Lines Inc. and Alaska Airlines all began inspections of 737 engine fan blades last year, after the 2016 Southwest incident, even though a proposed FAA requirement hadn't been finalized, the carriers said.
Delta and Southwest extended their inspections to other 737 engines voluntarily. American has finished inspections of its most-flown engines and is working on the rest. Alaska also is still conducting examinations. United Continental Holdings Inc. said Thursday it is following a service bulletin issued to it last week for its 698 engines, and expects the work to continue through the year.
Read more: https://www.bloomberg.com/news/articles/2018-04-20/faa-said-plans-emergency-engine-inspections-after-fatal-incident
Related Product