Funeral for Heartbeat actor Bill Maynard
Posted on : April 22, 2018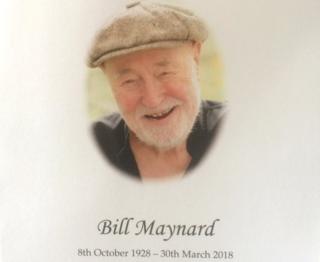 The funeral has taken place of Heartbeat actor Bill Maynard, who had a career spanning eight decades.
Fans were amongst family and friends at South Leicestershire Crematorium in Countesthorpe to remember "Mr Showbiz", who died aged 89 on 30 March.
Mr Maynard's family said he died in hospital shortly after breaking his hip in a fall from a mobility scooter.
Heartbeat co-star Tricia Penrose described the veteran as a "great actor" and a "great character".
Mr Maynard – whose real name was Walter Williams – grew up in Leicestershire and began singing in local working men's clubs during his childhood.
He was best known as Claude Jeremiah Greengrass in the TV series Heartbeat and starred in the police drama from 1992 to 2000.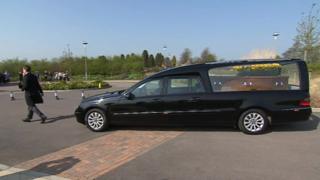 The service was relayed to dozens of people listening outside the crematorium.
After the funeral, Ms Penrose told the BBC: "He just loved showbiz, he was Mr Showbiz.
"He never gave up. He was amazing and what an amazing life he had.
"He will be really, really missed."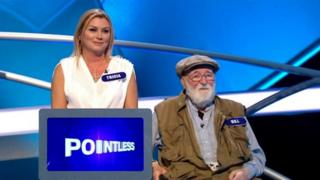 Ms Penrose, who played Gina Bellamy, recently joined Mr Maynard to play the quiz show Pointless Celebrities.
The episode was filmed in October – his last TV appearance – and was screened earlier this month.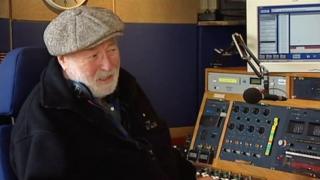 From 2003 to 2008 Mr Maynard had a show on BBC Radio Leicester.
His radio producer and friend, Chris Highton, said: "People would stop him on the street to talk about Heartbeat and the radio show and Bill would love that."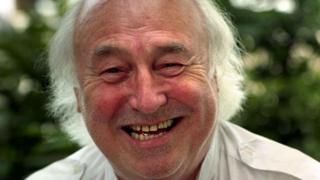 Mr Maynard had a varied career across 81 years.
In 1957, he tried his hand at singing – coming second in the British heat of the Eurovision Song Contest – and stood as an independent candidate in the 1984 Chesterfield by-election.
The actor leaves a daughter and a son, five grandchildren and three great-grandchildren.
Read more: http://www.bbc.co.uk/news/uk-england-leicestershire-43850006
Related Product