German far-right and anti-Nazi protesters clash over Chemnitz stabbing
Posted on : August 30, 2018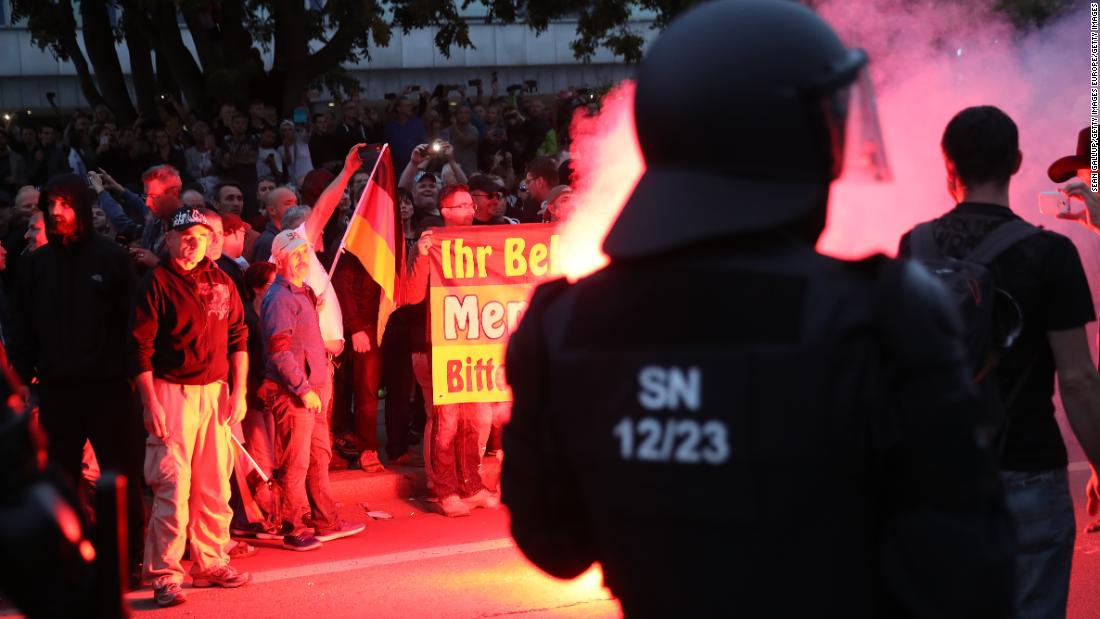 Berlin (CNN)Far-right protesters, some chanting neo-Nazi slogans and giving Hitler salutes, clashed with leftists in the German city of Chemnitz on Monday night after an Iraqi and a Syrian were arrested over the fatal stabbing of a 35-year-old German man.
Police said Monday evening's protests ended with a few scuffles and bottles thrown, but German media claimed the police were unprepared and had lost control of around 2,000 protesters.
The clash is the latest example of division in Germany triggered by the country's recent intake of refugees and migrants. Chancellor Angela Merkel has faced fierce criticism from her political opponents over her 2015 decision to keep the country's doors open to asylum seekers at the height of the Syrian war, allowing more than a million refugees to enter the country that year alone.
The decision has also seen a surge in far-right sentiment in the country.
The head of the Left party in Chemnitz, Tim Detzner, told the rally: "We want to show that Chemnitz has another side that is cosmopolitan and opposes xenophobia," Reuters reported.
German Foreign Minister Heiko Maas said Tuesday that the anti-immigration protests were "intolerable."
"The majority of people in Germany want an open, cosmopolitan, respectful Germany where people encounter one another with respect, and it is catastrophic what people can do to one another," Maas said.
The local branch of Germany's far-right Alternative for Germany (AfD) party had called for a "spontaneous demonstration" Sunday in memory of the victim,
posting a picture on Facebook
of a blood-spattered pavement. The German man had died of his injuries after a brawl. The two men arrested over his death are both in their early 20s.
AfD lawmaker Markus Frohnmaier also called for action, saying it was a "civic duty to stop this deadly 'knife migration.'"
Videos from Sunday's protests showed demonstrators chasing people of foreign appearance down the street, while German media reported other cases of intimidation.
Merkel's spokesman Steffen Seibert said Monday that such violence had no place in Germany.
"Such targeting and hunting of people with different looks, different origins, or the attempt to spread hatred on the streets has no place in our cities."
Read more: https://www.cnn.com/2018/08/28/europe/germany-protests-chemnitz-intl/index.html
Related Product