Hamilton's Japan Grand Prix win puts him closer to drivers' championship
Posted on : October 9, 2018
Win puts Hamiltons fifth world championship firmly in his grasp as Sebastian Vettel finished sixth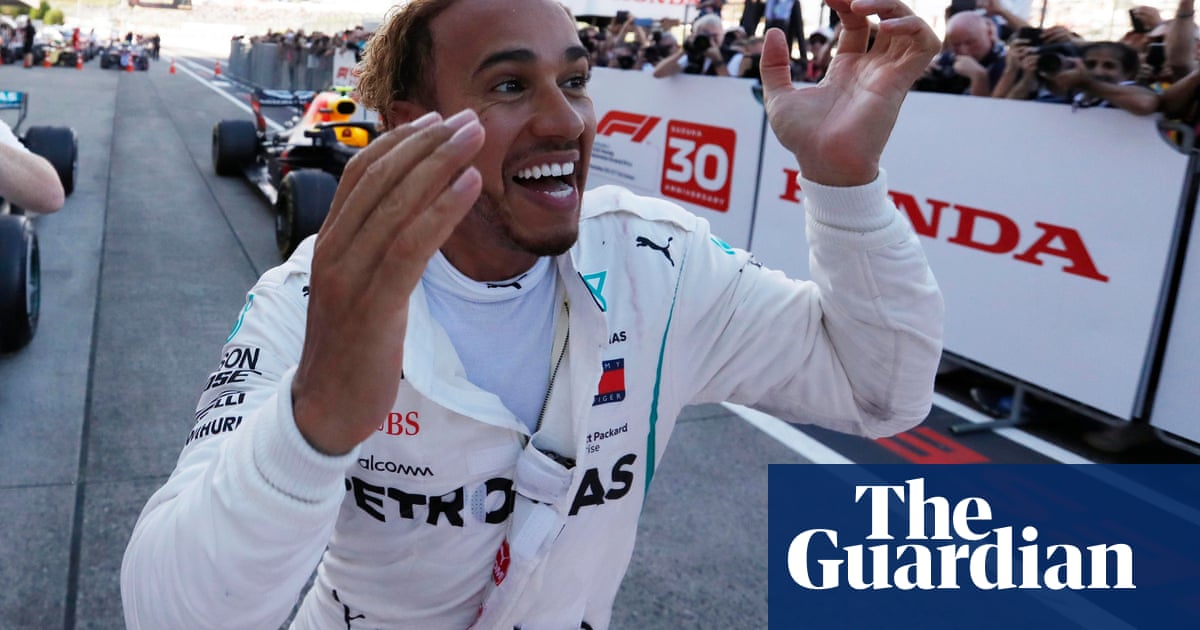 The scene for so many dramatic denouements to the Formula One season, this years Japanese Grand Prix has now also surely delivered the decisive victory to ensure Lewis Hamilton will secure his fifth world championship. For Hamilton at least, it went entirely to script, a drive of serene control where the win never looked in doubt. But for his rival Sebastian Vettel, Suzukas glorious theatre simply closed the curtain on what has been a painful end to his title hopes.
There was incident in the race but far in Hamiltons wake. Indeed as the Mercedes driver now stands with the trophy all but raised, his ruthless closing out of the title and Ferraris failure to maintain a challenge means the season the Scuderia opened with such an optimistic bang is ending with a whimper.
Hamiltons 71st career victory is his sixth in the last seven races. However, the number that really matters as they leave Japan is the 67-point lead Hamilton now enjoys. He can clinch the title, to equal Juan Manuel Fangios five, if he wins the US Grand Prix in Austin on 21 October and Vettel fails to come second. Even then it would likely only delay the inevitable until Mexico the following weekend.
Hamilton knows it is not quite done yet but tellingly he was willing to take pleasure in undoubtedly coming out on top in his bout with Vettel. I love that we have those races and those battles and I wish to have more of them, he said. I have always been able to go head to head with the guy you compete with, and to see who breaks earlier and who falters is the ultimate challenge. Mental stability under that pressure. I always welcome them and I am glad we have had those moments.
Certainly it is Vettel who has repeatedly faltered and Japan was no exception. Starting from pole Hamilton and Mercedes controlled the race from the front and secured a one-two with Valtteri Bottas in second. For Vettel and Ferrari there was no such luxury. The teams error in tyre choice and Vettels slip up in qualifying, the latest in a series of misjudgments that have blighted their season, meant he started from eighth.
Vettel had to come back and fight for the lead to keep any title hope alive. Charging through to fourth by the end of the first lap was just the opening required. However when he came to pass Max Verstappen in third he tried to drive up the inside of Spoon. It was a risky move and, after clipping the inside of the Dutchman, Vettel spun out and fell to the back of the field. With a damaged car, recovery to sixth was the best he could manage.
Verstappen felt Vettel was at fault. In that corner you cant overtake, he said. I gave him space but he understeered into my car. The problem facing Vettel was that he simply could not afford to lose time as both Mercedes disappeared into the distance. The pressure Hamilton had brought to bear over the preceding races left the British driver with options aplenty and Vettel with his window of opportunity reduced to a small portion of track on the entrance to Spoon.
How many times can you afford to wait? Vettel said. I am racing not just Max but the guys in front. He insisted it was a reasonable chance and that Verstappen had caused the clash although the stewards judged it a racing incident. I went for the gap that was there, said Vettel. Max saw I was side by side and squeezed me, didnt give me any room and it was inevitable we clashed. I did my best to avoid contact but he kept closing. I dont think there was anything wrong in trying. There are not so many chances you get when you are close.
The Mercedes team principal, Toto Wolff, acknowledged that Vettel had to make the move. I am not sure it was a mistake, he said. He had recovered well to fourth and at that stage as a race driver you have to go for it or not. The door looked open and he gave it a go.
Ferrari have arguably had the better car for the majority of the season, certainly it was quicker after the British Grand Prix. Yet Hamilton and Mercedes have repeatedly come out on top, with the Scuderia coming to look operationally flawed in comparison to the Mercedes machine. Wolff praised their efforts to match and surpass Ferrari. We have made a big step forward since Spa, he said. Monza and Singapore and Japan are three different tracks, we wanted to deliver on all three. We have a lot of confidence in the car and that made us outperform our competitors.
Vettels comeback was spirited but Mercedes had owned the weekend, with Hamilton quickest in all practice sessions and qualifying. Whether Vettel could have matched him in the race will remain moot since Ferrari simply could not put him in a position to challenge.
He was calm if understandably almost resigned afterwards, talking positively of the potential the team still possess. But it is a psychological panacea he must employ to look forward because Ferrari have let this slip though their fingers. Hamilton meanwhile intimated ominously that there is much more to come. In the team the harmony is the best it has ever been, he said. On my side, this is one of the heights but hopefully I am not going to stop here.
Read more: https://www.theguardian.com/sport/2018/oct/07/lewis-hamilton-win-japan-grand-prix-and-moves-closer-to-drivers-championship
Related Product