Josh Gordon may turn out to be Bill Belichick's greatest ever trade
Posted on : September 22, 2018
The New England Patriots have picked up one of the leagues most talented receivers for peanuts. Hes worth it, even with his history of addiction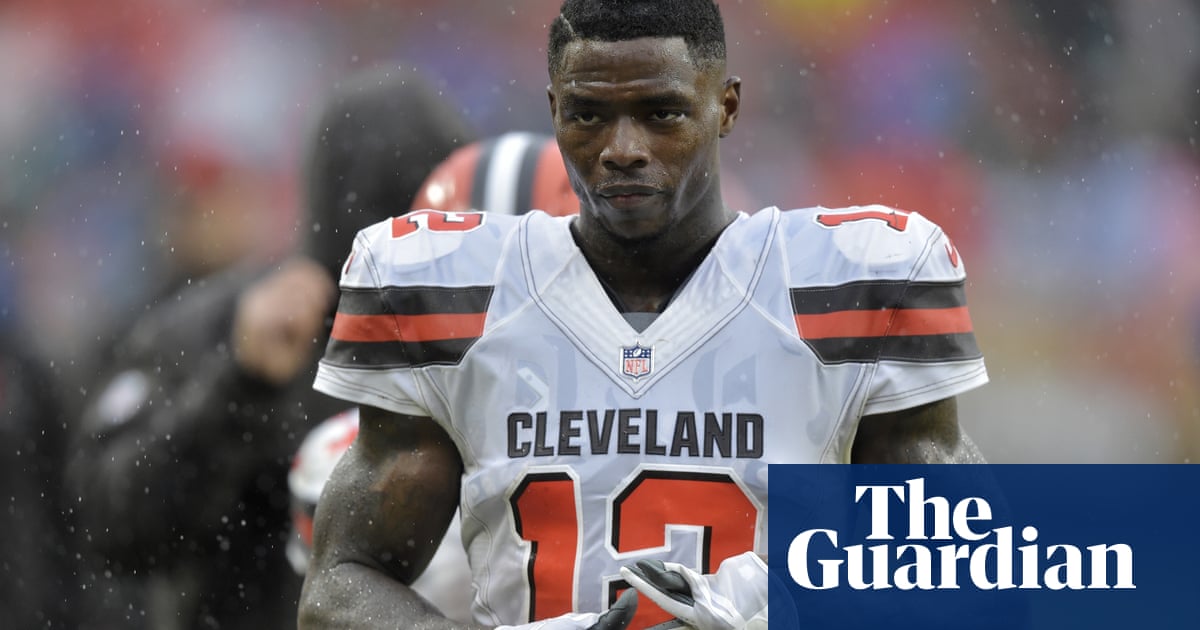 Josh Gordon is the latest example of a calculated Bill Belichick gamble. He may turn out to be the greatest of them all. The New England Patriots head coach has a habit of grabbing 24-karat players for the price of 24 carrots. The Patriots officially acquired Gordon from the Browns this week, in exchange for a fifth-round draft pick. The Pats will also receive a seventh-rounder from Cleveland.
How do other teams routinely allow New England to get away with this kind of trading witchcraft? Belichick just acquired one of the most gifted playmakers of this, or indeed any, generation for almost nothing. The trade recalls the Randy Moss deal Belichick struck a decade ago. Back then, Moss was seen as a troubled star: he didnt fit in Oakland and he was often injured. Belichick flipped a fourth-round pick in exchange for the Hall of Famer and New England ripped off a 16-0 regular season while Moss broke the regular-season touchdown record, grabbing 23 TDs from Brady.
Belichicks gambles dont always play out that way. Like everyone, hes had hits and misses. Moss, Corey Dillon, Aqib Talib, and Darrelle Revis worked out in their own way. Aaron Hernandez, Albert Haynsworth and Chad Johnson didnt.
Each of those players came with varying degrees of baggage. Some carried the diva label. Others were branded distractions. A few were considered over-the-hill. One or two, it was claimed, did not love football. Hernandezs legal troubles in college were well-documented. Yet Gordon is unlike anyone Belichick has had roll through his door. Gordon is a Hall of Fame talent in an addicts body. This isnt your normal character guy problem, to use football parlance.
The success or failure of this deal has little to do with whether Gordon can fit into New Englands cult of no personality or not. Its a medical issue. Adjustment flows in both directions. Belichick and the Patriots are going to have to help, support and nurture Gordon if they want to see him succeed.
Gordon hasnt played a full season in the NFL since 2012. Prior to the start of the 2013 season, the receiver was suspended two games for violating the NFLs substance abuse policy. In 2014, he was suspended for the entire season for a repeat offence. He appealed, with the league reducing his suspension by a game. He missed the final game of that season due to a violation of team rules. Gordon says he blacked out the night before and missed the team flight, not uncommon during his Cleveland days.
The league suspended him again for the entire 2015 season for violating the substance abuse policy. This time, it was alcohol, not marijuana. 2016 was wiped out after the NFL refused to reinstate him. Gordon had failed another drug test. He was fully reinstated in 2017. He played five games.
Concerns brewed throughout this past offseason. It culminated in an announcement that Gordon would miss the start of training camp to focus on his health and recovery. His absence was part of [his] overall health and treatment plan, he said.
These are deep seated issues. Gordons problems stem back to middle school. In a profile with GQ, Gordon said he began to self-medicate with a cocktail of Xanax, marijuana, and codeine to help deal with adolescent trauma-based fear. He never finished a full year in college. He transferred from Baylor to Utah after violating team rules (Gordon subsequently admitted that he cheated drug tests while in college). He never suited up for Utah, where he failed a drug test.
Gordon estimates he has had something in his system for probably every game of [his] career, including those in college. He remains in Stage 3 of the NFLs substance-abuse program, which means he is subject to random drug testing. If he fails a test, he faces another indefinite suspension. The Patriots represent the last chance for Gordons football career.
Cleveland finally pulled the plug on Gordon last weekend. He is alleged to have hurt his hamstring at a Friday night promotional event prior to the team departing for its game in New Orleans the following day. There is no greater sin in the NFL than being perceived as unreliable. The Browns had waited four full seasons and umpteen regimes to get the most gifted player on their roster back onto the field. One game into his new stint, they bailed.
Naturally, Belichick pounced. Implicit in this deal is the idea that Gordons bad habits could seep into the rest of the locker room. But Belichick knows that if Gordon fails another drug test, hes suspended from the league indefinitely. He wouldnt have time to infect a sides precious ecosystem. And if one player can have that much of an impact on your roster before you cut bait, perhaps your culture isnt that strong to begin with.
The other 31 teams seem to afford Belichick the kind of reverence that gives him a decided, competitive advantage. Bills culture can survive that, Im not sure ours can. What nonsense. It feels like Cleveland should have squeezed for more. NFL teams preach culture, culture, culture above all else. Except for talent. Talent always wins.
And Gordon is an extraordinary talent. He has all the unteachable traits. Gordon is as physically imposing as any wide receiver this side of Julio Jones. His agility, in and out of breaks, is rivaled only by Antonio Brown. His downfield, jump ball, chuck-it-to-me and let-me-go-get-it intuition, is on par with peak-Dez Bryant. Hes the total package.
You may think thats hyperbole. Consider this for a minute: Gordon led the league in receiving in 2014 with 1,646 in just 14 games. Oh, and the quarterbacks throwing him the ball were Jason Campbell, Brian Hoyer, and Brandon Weeden. Brandon Weeden! How does a defense go about matching up with an offense that includes Rob Gronkowski, Julian Edelman (who returns from his PED suspension in Week 5), and Gordon? And then theres all the funky stuff Tom Brady and company are doing with their running backs and fullback. Who do you double?
Its fair to wonder whether were getting ahead of ourselves. Gordon is one failed test away from being out of the league. Its not Belichicks decision to make. Gordon looked good in his lone game this season. Understandably, he wasnt at the peak of his powers just yet. And the Patriots run a complex system. It requires a deep knowledgeof the opposing personnel, anticipation, instinctual football IQ, and in-synccommunication. It could take some time for Gordon to get going.
Still: acquiring players this talented usually requires a sack full of money or a high-end draft pick. Belichick just pulled one of the NFLs most devastating receivers for whats tantamount to robbery. And theyre paying him less than a million dollars, pittance for a player of his talent.
Jacksonville showed last week that the Patriots cannot subsist on a steady diet of man-beater concepts against the best of the best. They need another player who can win one-on-one matchups without the assistance of crafty play-designs. Gordon is that guy. Adding him might be Belichicks shrewdest move to date.
Read more: https://www.theguardian.com/sport/2018/sep/21/josh-gordon-may-turn-out-to-be-bill-belichicks-greatest-ever-trade
Related Product