Julie Bishop resigns as foreign affairs minister after failed leadership bid
Posted on : August 27, 2018
The former deputy leader of the Liberal party ends speculation by quitting frontbench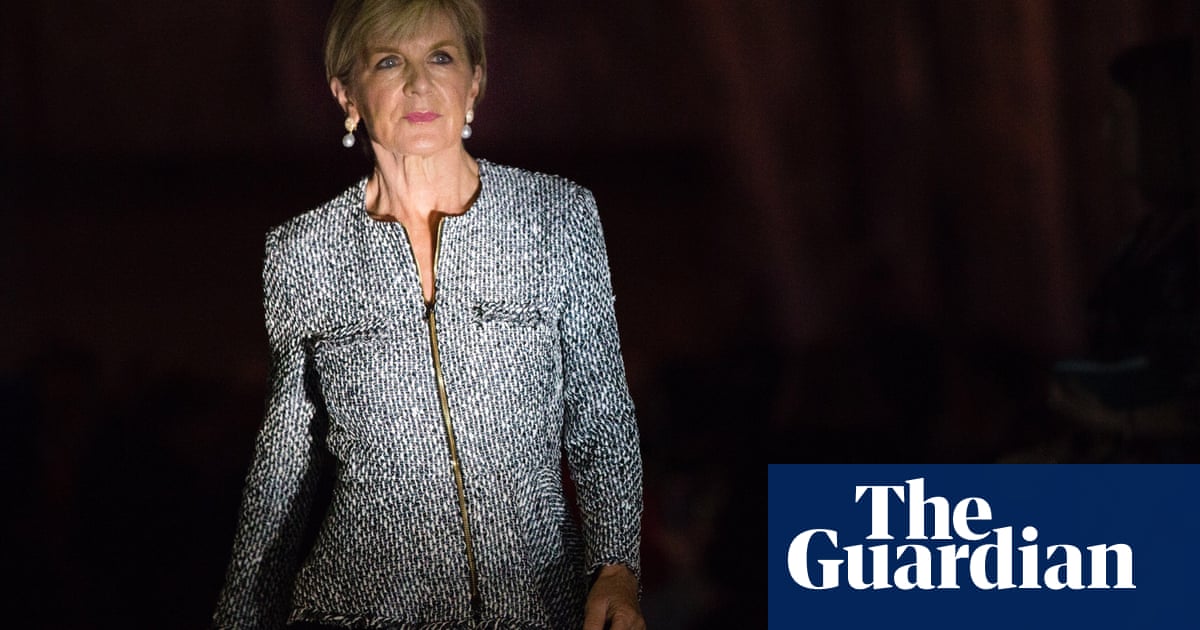 The foreign affairs minister Julie Bishop has resigned from cabinet, but says she has made no decision on whether she will stay in parliament beyond the next election.
In a statement posted online, Bishop, 62, announced: Today I advised the prime minister that I will be resigning from my cabinet position as minister for foreign affairs.
I will remain on the backbench as a strong voice for Western Australia.
I have been preselected by the Liberal party for the seat of Curtin and I have made no decision regarding the next election.
Bishops resignation creates more unrest amid the upheaval of the Liberal-National Coalition government, as the new prime minister, Scott Morrison, works to patch together a cohesive cabinet from the opprobrium of the Liberal partys civil war last week.
Bishop ran against Morrison and Peter Dutton in Fridays leadership spill, but garnered only 11 votes in the 85-strong party room.
She is understood to have been bitterly disappointed that a group of moderates tactically voted against her, despite being political allies. She attracted no votes from her home state of Western Australia.
Bishop has been rumoured as a possible next governor general of Australia, after General Sir Peter Cosgroves commission expires in March next year.
While Bishops statement insists she has made no decision on remaining in parliament, it is likely she will vacate the seat of Curtin, which she has held since 1998, at the next election in 2019.
An election may come sooner if the governments one-vote majority is imperilled by a byelection in the seat of former prime minister Malcolm Turnbull, who has already indicated he will resign not before too long.
Bishop was deputy leader of the Liberal party for 11 years, holding on to the position as a succession of leaders Brendan Nelson, Turnbull, Tony Abbott and Turnbull again were cut down above her.
She served as foreign affairs minister from September 2013, spearheading the New Colombo Plan to promote studies in the Indo-Pacific, and leading Australias demand for justice over the downing of Malaysian Airlines flight MH17.
Australia also served on the UN security council (from opposition Bishop had opposed the Labor governments bid for the seat) during her term. Australia also won a seat on the UN human rights council during under her stewardship.
But her term has not been without controversy: Australia has opposed, and actively sought to undermine, the UNs nuclear weapons ban treaty, and attracted criticism for continuing its noncombat support for the Myanmar military in the wake of its genocide against the Rohingya.
On Sunday, the education minister, Simon Birmingham, called Bishop the most significant woman in the history of the Liberal party. Turnbull described his longtime friend as Australias finest foreign affairs minister.
I thank Julie for her loyalty and friendship over many years but especially as my deputy, Turnbull said. She has been and remains an inspiring role model for women here and around the world.
Penny Wong, the shadow minister for foreign affairs, has extended well wishes to Bishop, saying she played a trailblazing role as the first Australian woman to be minister for foreign affairs.
For five years she has dedicated her life to our nation with a tireless work ethic and exhausting travel schedule, Wong said.
While Labor has at times been critical of the foreign policy directions under prime ministers Abbott and Turnbull, Ms Bishops commitment to standing up for Australia both here and abroad has never been in question.
In particular I have deeply appreciated her commitment to bipartisanship, and her personal courtesy to me.
Shortly after Bishops resignation, Queensland Nationals MP and assistant minister for trade, investment, and tourism Keith Pitt announced he would also leave the ministry. He will remain in parliament and says he will contest the next election.
But Pitts resignation statement hinted at continued disquiet within the Coalition over the Liberals disunity, and over energy and climate policies.
I will always put the national interest and the interests of my constituents above my own. I will always put reducing power prices before Paris, he said, a reference to the Paris climate agreement Australia committed to in 2015.
Read more: https://www.theguardian.com/australia-news/2018/aug/26/julie-bishop-resigns-as-foreign-minister-after-failed-leadership-bid
Related Product