'Legendary' Royal Welsh goat dies
Posted on : September 29, 2017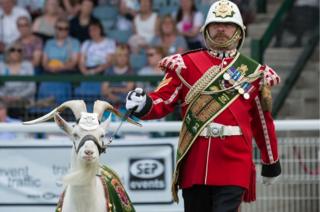 The Regimental Mascot of 3rd Battalion The Royal Welsh has died, the Army has said.
Lance Corporal Shenkin II, a Kashmiri from the Royal Herd at the Great Orme, Llandudno, died on Tuesday aged seven.
He made regular appearances at rugby internationals with his handler, Goat Major Sergeant Mark Jackson.
A letter has been sent to the Queen officially informing her of Shenkin's death and also asking permission for the regiment to select a new goat.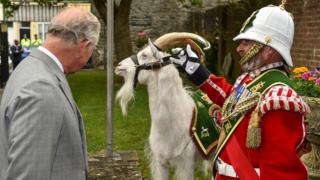 Goats from the Great Orme herd have been presented to the regiment since 1844 when Queen Victoria presented the Royal Welch Fusiliers with its first official royal goat.
He was selected for duty following the death of his predecessor, also called Shenkin.
Sgt Jackson has been at Shenkin's side for the past five years. They have led officers and soldiers in freedom parades and the national rugby team onto the field at the Principality Stadium.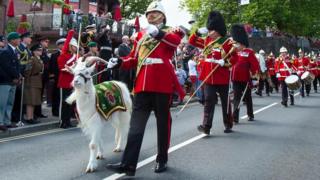 Shenkin will have a headstone commissioned outside Regimental Headquarters in Maindy Barracks.
"He was a legend," said Sgt Jackson.
"He wasn't just a regimental goat, but part of my family as well. He loved a crowd and was a total poser".
The process of finding a successor from the Royal Herd will soon begin, and while that continues Llywelyn, the Regimental Mascot for 1st Battalion The Royal Welsh, will assume duties.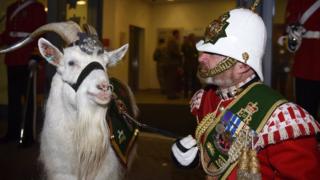 Read more: http://www.bbc.co.uk/news/uk-wales-41415654
Related Product