'Livid' Gove rips up EU customs report
Posted on : July 2, 2018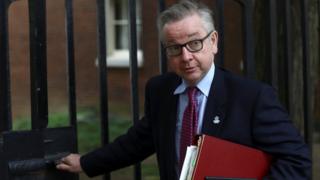 Environment Secretary Michael Gove physically ripped up a report on Theresa May's preferred option for a new customs partnership with the EU.
He was said to have been "livid" as he felt the government document downplayed his objections to the proposal.
It comes amid cabinet splits over the future shape of Brexit, which Mrs May hopes to resolve on Friday.
European Council president Donald Tusk has said the UK must agree its position and "lay its cards on the table".
The government has talked publicly about two potential options for its customs relationship with the European Union after Brexit.
One, a customs partnership, would mean the UK applies the EU's own tariffs and rules of origin to all goods arriving in the country, intended for the EU.
The other, known as maximum facilitation or max-fac, aims to employ new technology to remove the need for physical customs checks where possible.
Two groups of cabinet members were looking at each of the plans.
The document in question, prepared by civil servants, was supposed to represent the views of a group of cabinet members looking at the customs partnership, including Mr Gove.
The Sun reported Mr Gove "physically ripped it up to show he wasn't prepared to accept the document as a summary of their discussions".
BBC political correspondent Matt Cole said representatives for Mr Gove had confirmed the paper's claims.
Mr Gove was unhappy because it didn't "reflect his views that a customs partnership would be too bureaucratic and make it harder for Britain to do business", our correspondent said.
---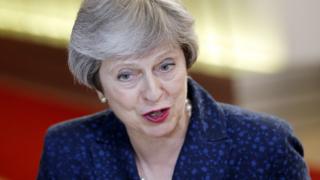 Analysis: Cabinet discipline broken
By Matt Cole, BBC political correspondent
This outburst of anger – and, crucially, the fact it has become public – is another sign that Cabinet discipline has broken down.
The question around Westminster is has Theresa May lost control and, if so, is that irrevocable?
In recent days Boris Johnson has been criticised by colleagues like Greg Clark and Matthew Hancock for using an expletive to summarise his views about business and Brexit.
That was followed by another Cabinet member Liz Truss saying it "wasn't macho" for people like the defence secretary to publicly demand extra cash.
This stuff is normally hidden behind the cloak of collective cabinet responsibility.
So, with Michael Gove now happy for it to be known he's "livid" about a report by a sub-committee of a sub-committee (yes, that's right), it's only adding to the sense that the prime minister is a ring master whose whip crack is being ignored.
---
It came as Mrs May attended an important summit at which Mr Tusk issued a "last call" to the UK to agree its position if a Brexit deal is to be done in time.
Mr Tusk said the most difficult issues remained unresolved and quick progress was needed if agreement was to be reached by October.
Mrs May and her cabinet are due to meet at Chequers next Friday as they look to agree on a blueprint for the UK's future relationship with the EU.
The UK will then publish a White Paper setting out "in more detail what strong partnership the United Kingdom wants to see with the European Union in the future", the prime minister has said.
Liberal Democrat Brexit spokesman Tom Brake said Mr Gove's "temper tantrum" showed "deep divides within the cabinet" and the "petulance of Brexiteers who can sense their lies are being exposed".
He said the cabinet "need to act less like toddlers and more like senior ministers negotiating one of the most important deals in UK history".
Read more: http://www.bbc.co.uk/news/uk-44668572
Related Product