New evidence in 1998 dog walker murder
Posted on : October 15, 2018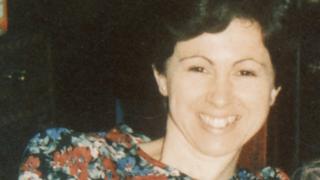 New DNA evidence that could help solve the brutal murder of woman 20 years ago has been uncovered by police.
Lyn Bryant, 40, was found dead in the gateway of a field on Cornwall's remote Roseland Peninsula on 20 October 1998.
The investigation into her death has been one of the longest-running and largest ever carried out by Devon and Cornwall Police but the identity of her attacker has remained a mystery.
But detectives now say they have the DNA of the mother-of-two's killer.
Investigators and Mrs Bryant's family hope this evidence – a partial DNA profile recovered from her body and swabs from the scene – which was uncovered in 2016 during a forensic review of the case will lead to a resolution.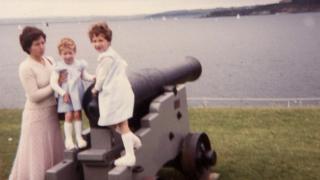 "It means we can use that to eliminate somebody fairly quickly," said retired detective inspector and current senior investigating officer Stuart Ellis.
"This type of case is rare in such a quiet, rural location; it has always been a frustration that somebody has been able to get into that rural location, commit such a murder and not be seen or identified by anybody."
During the original investigation about 6,000 people had DNA taken. However, these samples were destroyed because of a change in legislation in 2013, just three years before new technology allowed scientists to piece together the partial DNA profile Mr Ellis said he was sure belonged to Mrs Bryant's killer.
He said officers were now going back over the list and retaking samples from some people on it.
Mr Ellis said three suspects arrested during the investigation and cleared at least 10 years ago had now also been eliminated forensically.

The three unidentified men:
Devon and Cornwall Police have long wanted to trace three unidentified men spotted in the vicinity on the day of Lyn Bryant's murder:
The bearded driver of a scruffy white car-derived van who was on the forecourt of Chenoweth's garage at about 13:05 BST, at the same time as Mrs Bryant
A clean-shaven man in his 30s seen talking to Mrs Bryant between 13:45 and 14:00. This was the last known sighting of her
A clean-shaven man wearing "normal clothes" who was seen by a farmer walking through a field, away from the murder scene. The farmer said this was very unusual.

Detectives have said they believed Mrs Bryant's murder was sexually motivated because of the way her clothes had been disturbed.
She had suffered stab wounds to her back, neck and chest and Mr Ellis said Mrs Bryant was in "contact with her attacker for some period of time", having been stabbed while she stood up and in a horizontal position.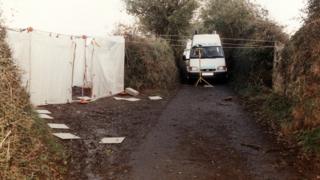 Mrs Bryant's daughter, Lee Taylor, was just 21 and a new mother herself when officers came to her house to tell her "there's been an accident".
Now 41, Mrs Taylor told the BBC her memory of the "surreal" following days and weeks was hazy but said the worst part was "thinking about what her last moments were like, when she was there on her own".
"I think that's probably the hardest bit that I do try not to think about," she added.
Mrs Taylor said she believed the killer was "still out there", adding: "You feel like somebody is watching you.
"I have felt like that for a very long time… We are just hoping that maybe there is somebody out there who had suspicions at the time but wasn't able to do anything about it."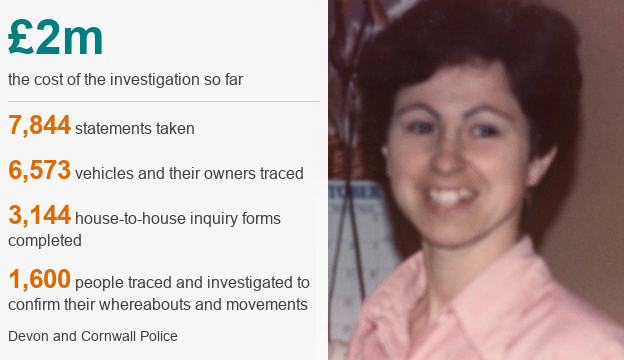 You may also be interested in:
Anyone with information is asked to call the dedicated incident room number on 0800 096 1233.

Timeline of the murder: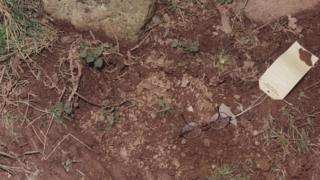 20 October 1998 – Lyn Bryant spends the morning cleaning a local home before briefly visiting her parents who live nearby
12:45 – Mrs Bryant drives her grey Ford Sierra to Harris Garage (now Roseland Garage) but has to turn back when she finds they are out of fuel
13:05 – She goes back to Chenoweth's garage at Ruan High Lanes and buys fuel, milk and groceries
13:05-13:30 – Mrs Bryant goes home, has lunch with her daughter Erin and they watch Emmerdale
13:30 – The mother-of-two sets out on her regular walk with Jay, the family's tan and white lurcher and is seen by a number of witnesses in the lane towards Ruan High Lanes Methodist Chapel
13:45-14:00 – A motorist sees Mrs Bryant and Jay talking to a clean-shaven man at the junction by the chapel
14:30 – Mrs Bryant's body is found in the gateway to a field a short distance from the junction
14:50 – The air ambulance arrives and Mrs Bryant is pronounced dead at the scene
2 February 1999 – Her missing tortoiseshell glasses are found in the gateway, lying on muddy ground
May 2016 – Scientists get a partial DNA profile during a forensic review of the case
October 2016 – Police start retaking DNA samples nationally
BBC Inside Out South West's report can be seen on BBC One in the South West at 19:30 BST on Monday 15 October, and afterwards on the BBC iPlayer.
Read more: https://www.bbc.co.uk/news/uk-england-cornwall-45787402
Related Product