PC told public how to save his life
Posted on : October 24, 2018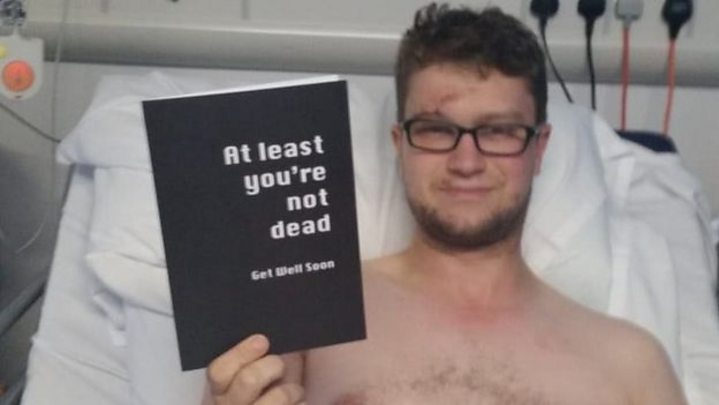 A police officer has described how he asked members of the public to put a tourniquet on his leg while he was bleeding to death.
PC Tom Dorman had his leg amputated after a car crash in Maidenhead, Berkshire, in September.
He said members of the public "ran out of their homes" to stop "catastrophic" bleeding in his leg, which meant he could have "died within two minutes".
Two men have been arrested in connection with the collision.
PC Dorman was in a stationary vehicle which was struck by a silver Ford Focus at 05:30 BST on 2 September.
He said the "loud bang" of the crash caused people to wake up and come out of their homes to his aid.
"I managed to explain, somehow, to someone, how to improvise a tourniquet, that they could tie round and keep pulling to slow the bleeding in the wound and close up the artery," he said.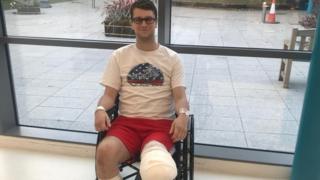 Not being able to remember who applied the tourniquet, he said "a jumper was used to at least stem the flow", although he had "no idea where it came from".
"To everyone else who helped, I owe you my life, and I'm very thankful to them," PC Dorman said.
"I'm effectively the luckiest person in the world."
After nearly ten hours of surgery, he woke up to be told he had lost the lower half of his left leg.
"If blankness could be an emotion, that would describe how I would feel. I've never had such life changing news like that," he said.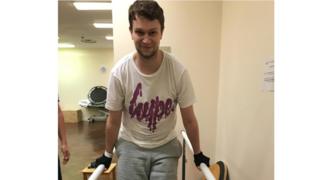 PC Dorman was discharged from hospital on 4 October, having had four operations, but adapting to life with one leg has been a "new learning curve".
"I can't stand up, I can't walk, I can't cook because I can't reach for things."

You may also be interested in:

PC Dorman is undergoing physiotherapy to learn to walk, which he said felt "like being a toddler again".
But he aims to return to frontline policing "within a year, to do what every police officer does, catching criminals and looking after people".
Two 24-year-old men, arrested for dangerous driving in connection with the crash, have been released under investigation
Read more: https://www.bbc.co.uk/news/uk-england-berkshire-45940694
Related Product