Spain Unleashes Historic Power to End Catalan Independence Push
Posted on : October 21, 2017
Prime Minister Mariano Rajoy will deploy the Spanish government's most wide-ranging constitutional powers for the first time in the country's history as he seeks to land a decisive blow on the Catalan separatist movement.
Spanish stocks and bonds dropped as Rajoy's government said it will move forward with the process of suspending the powers of the Catalan administration after regional President Carles Puigdemont refused to shelve his claim to independence.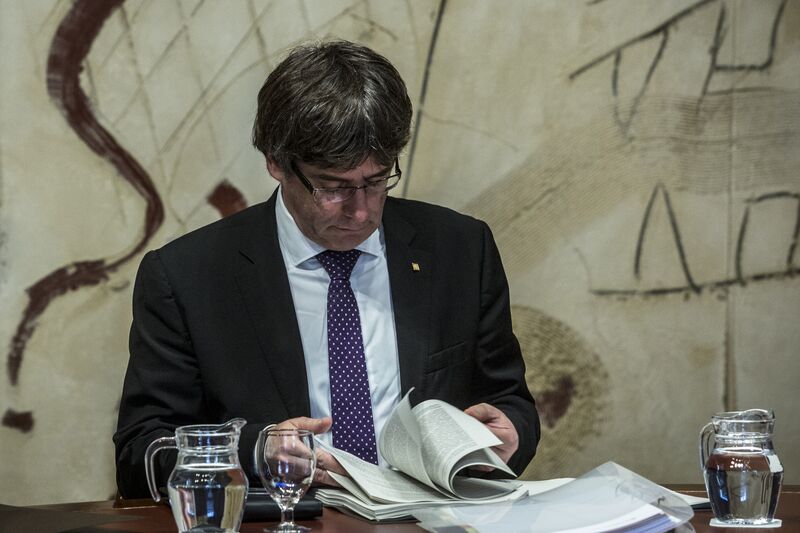 Spain's government issued a statement on Thursday morning invoking Article 155 of the Constitution "to restore the legality" of the semi-autonomous region.
Rajoy is deploying his ultimate constitutional weapon in an effort to end the cycle of brinkmanship he's been dragged into since an illegal referendum in the region on Oct. 1 which the separatists claim gives their cause legitimacy.
Puigdemont on Thursday threatened to make a unilateral declaration of independence unless the government in Madrid agrees to talks. Puigdemont's response came to an ultimatum from Madrid to renounce his claims for secession by 10 a.m. Thursday or face the consequences.
Spain's benchmark stock index was down 0.8 percent as of 12:54 p.m. in Madrid. The spread between the country's 10-year government bond and similarly dated German bunds widened by 2 basis points.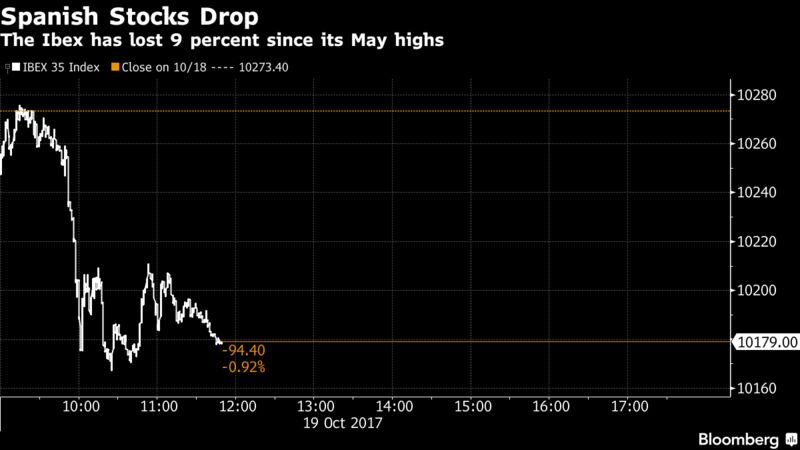 "If the central government persists in blocking dialogue and continues its repression, the Catalan Parliament may proceed, if it considers it appropriate, to approve a formal declaration of independence," Puigdemont said in a letter to Rajoy. Separatist lawmakers huddled in the regional parliament to plot their response following the central government's statement.
With Rajoy due to attend a two-day summit of European Union leaders in Brussels later in the day, his advisers were meeting with the opposition Socialists to finalize the measures they will take. The cabinet will meet Saturday to approve the plan which then needs authorization from the Spanish Senate, where Rajoy's People's Party has a majority. The Senate is due to meet Tuesday.
One move still open to Puigdemont to fend off the state intervention would be to call early regional elections to seek a renewed mandate for independence, though Catalan officials have ruled out that option this week. If Rajoy does end up taking control of the region, he will eventually have to call elections himself to restore the democratic order.
Regional Elections
"All roads lead to new elections," said Antonio Barroso, a political-risk analyst at Teneo Intelligence in London. "The question is how we get there. Puigdemont may try to beat Rajoy to it. It's a way to keep up momentum for the independence movement."
Article 155 of the 1978 Constitution allows the central government to force any of its 17 regions to adhere to the law when disobedience "gravely threatens the general interest of Spain." Its two short sentences appear to give the central government a broad remit to bring a rebellious region to heel, but because it's never been written into law, there's no roadmap for action, or clear path to avoid delays and battles with opposition parties in the Senate.
"Debates could turn into a real psychodrama," constitutional scholar Jorge de Esteban Alonso wrote in a law blog in September. A delay of at least two weeks in actually applying the crackdown under Article 155 is very likely, he said.
Uncharted Territory
Once the measures are approved, implementing them will also pose risks for Rajoy. When he sent in Spanish police to seize ballot boxes during the makeshift referendum, they were drawn into violent clashes with activists which caused outrage around the world and may have driven some moderates into the separatist camp.
Avoiding a repeat of those scenes may be pivotal for Spain's 1.1 trillion-euro ($1.3 trillion) economy, which counts on Catalonia for a fifth of its output. Hundreds of companies have set up headquarters elsewhere in the country to avoid a legal limbo with the threat of secession hanging over them.
In an address to the regional parliament in Barcelona last week, the Catalan president said that the referendum held in breach of Spanish law gave him the right to declare independence, but that he was suspending the drive for a new republic in favor of dialogue.
In his letter to Rajoy, Puigdemont said that his request for a face-to-face meeting had been ignored, and that Spanish "repression" of Catalonia was being stepped up with the jailing of two separatist activists on Monday.
"My request for the repression to end has not been met," Puigdemont said. "On the contrary, it has increased."
Read more: http://www.bloomberg.com/news/articles/2017-10-19/spanish-government-to-proceed-with-suspending-catalan-autonomy-j8y73fog
Related Product