Superyacht worth 75m docks in city
Posted on : August 7, 2018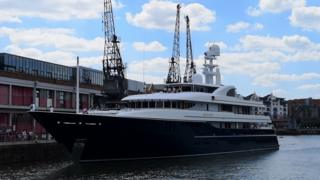 A luxury superyacht which docked in Bristol on Sunday has been described by harbour masters as "one of the largest" ships ever to visit the city.
Archimedes, owned by American billionaire James Simons, is worth an estimated £75m.
The 68m (223 ft) luxury motor vessel was built in 2008 and has a top speed of 16 knots.
It is not known whether Mr Simons, who founded private hedge fund Renaissance Technologies in 1982, was on board.
---
At the scene, BBC West digital editor Chris Kelly
It's not often you see Bristol stop – but this was one of those occasions.
Nobody knew the Archimedes was arriving and its arrival made people stop in their tracks and reach for their phones to take a photo.
Then the speculation started: Who owned it? Where had it come from?
Google must have had quite a spike as people searched for Archimedes and superyacht.
Then they found out who owned it and the speculation reached fever pitch.
My favourite (wild) theory is that Mr Simons was planning to invest in a football club.
---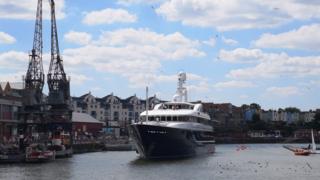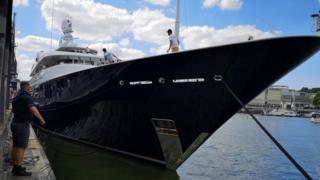 Read more: http://www.bbc.co.uk/news/uk-england-bristol-45081038
Related Product