The 53 most stunning lines from Donald Trump's 'Fox & Friends' interview
Posted on : April 28, 2018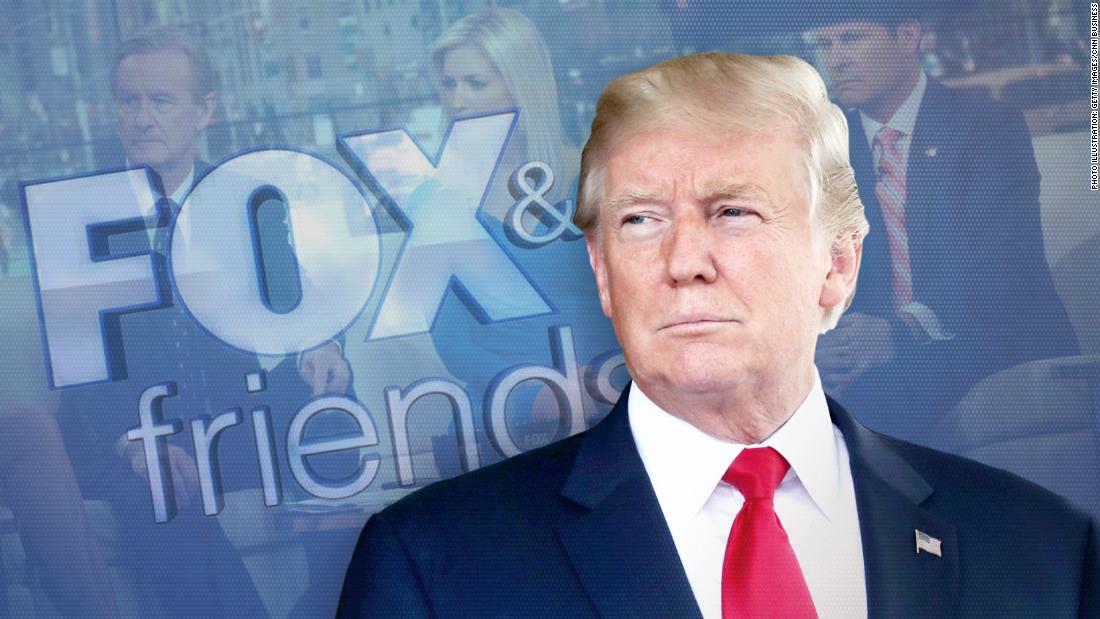 Washington (CNN)Minutes after his nominee to head the Veterans Affairs department withdrew from consideration amid a maelstrom of negative headlines, President Donald Trump called into his favorite show on his favorite network: "Fox & Friends" on Fox News Channel.
It was an emotional roller coaster as Trump was, at turns, calm, angry and everything in between. I went through the transcript and picked out the 53 most memorable lines. They're below.
1. "I better not get into that because I may get in trouble. Maybe I didn't get her so much."
Trump starts the interview noting that today is a special day because it is his wife's birthday. Annnnnnd, he
didn't get her anything
. Off to a great start!
Yes, I often tell my wife I didn't get her a present for her birthday because I am "very busy." It goes over great!
The entire nation of France was spellbound. Believe me. Many people are saying it.
So. Iran used to scream "Death to America." But they don't it anymore because Trump is president now. So, he's got that going for him. Which is nice.
Four of these people are members of Congress. One is Corey Lewandowski.
My file of "things I never thought I would hear a president say ever" is already WAY overstuffed.
The VA should consider adding this to their official name — "Department of Veterans Affairs: A Big Monster."
Ronny Jackson: One tremendous heart.
Maybe!
And, if Jackson was totally innocent and could prove these were all false allegations, why not stay and fight?
So:
a) Not exactly;
b) "Beautiful" is an odd word to use to describe someone's professional qualifications.
NO COLLUSION! NO COLLUSION!
Trump is advising reporters to ask Russian President Vladimir Putin who has been the toughest on Russia. So, put that on the list of questions, I guess.
So, there is or is not collusion? I'm fuzzy on that point.
The non sequitors here are truly mind-boggling.
Reminder: The Justice Department is run by Attorney General Jeff Sessions, the man Trump hand-picked to serve as the country's top cop.
HUGE news. The President of the United States saying that he has previously not meddled in Justice Department business but threatening that if they keep up this course of action — presumably meaning the Russia investigation — he could change his mind on that.
Yet more evidence that he either doesn't know or doesn't care that Justice has traditionally existed largely independently from the Executive Branch. And, I can't emphasize this enough: The President is threatening Justice to change direction — or else.
[narrator voice]: They don't.
In case you missed the first time the President threatened his Justice Department to drop the Russia investigation, here's him doing it again.
No big deal — just the President of the United States suggesting one of the most prominent law enforcement agencies in the country is compromised in fundamental ways.
Many people are saying Trump has the most attorneys. Beautiful attorneys. Unblemished even.
NOT INVOLVED! NO INVOLVEMENT!
Same. Frankly.
They did do that thing. They really did.
So: If celebrities come out and say they like Trump, they get "much more popular." Causation? Correlation?
The 2016 election ended 534 days ago.
By way of context, this is Trump's "answer" to a question about what it said about our culture that celebrities coming out in support of Trump were being castigated.
OK. Trump is accusing mainstream media outlets of working to keep people from voting so that projections that Trump would lose would come true. I really, really hope he doesn't believe this. If he does, whoa boy.
Here's how it is going to shake out on North Korea: a) we are going to do very well b) we'll see what happens.
Nailed it.
No words.
Following this logic: Had Trump not called Kim Jong Un "Little Rocket Man" we would have had nuclear war. So, you're welcome.
Nothing triggered this observation. it came totally out of the blue. One minute Trump was talking about how he doesn't/does watch CNN. The next sentence? Many people say he is looking good. Unrelated: People always come up to me and say: "Man, Chris, how did you get so damn cool?"
[narrator voice]: He does.
Of all the things Trump has said in this interview, this one is the farthest afield from reality. Like, on another planet.
Is "liar-leaker" like a "singer-dancer"? Like a dual threat?
Donald Trump: He took you from nuclear war to "wow" — and in only 15 months!
The most Trumpian thing ever. Most people when asked to grade their performance say "B" or something like that. Room for improvement and false modesty and all that. Not Trump. A+!!!!!!
See #36
Third time's a charm! And, if you look up "threat" in the dictionary, you get something very like that sentence above.
NO COLLUSION. NONE. NO COLLUSION.
Yes, yes it does. Let's call it a day!
Read more: https://www.cnn.com/2018/04/26/politics/donald-trump-fox-interview/index.html
Related Product