This is how sex abuse victims are changing state laws
Posted on : September 28, 2018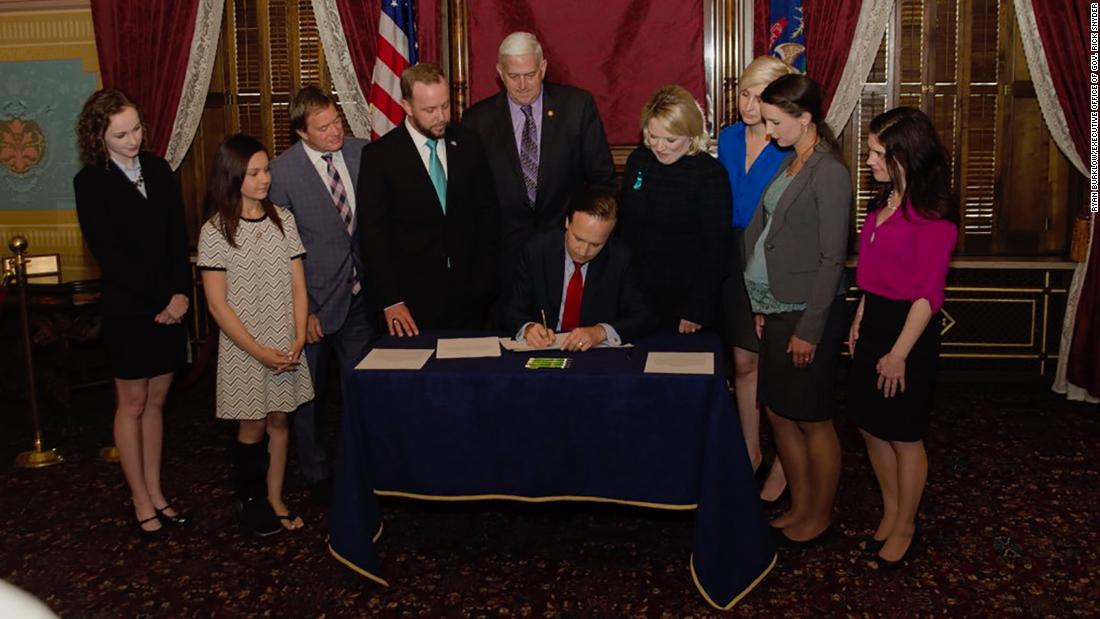 (CNN)They suffered in silence for years, only to learn their anguish would never lead to criminal justice.
The maximum time allowed after an offense for a victim to pursue a legal case
Statutes of limitation are meant, in part, to prevent unreliable testimony from witnesses whose memories have faded.
But in many sex abuse cases, assaults are seared into victims' memories — and it's their fear of ridicule or retaliation that keeps them silent.
Now, thanks to the courage of victims who faced the public spotlight, some states have changed their laws to make it easier to prosecute sex abusers long after the attack.
Here's a look at some states that have taken action — and who inspired the change:
California drops its statute after Cosby allegations
Yet many of Cosby's accusers said they were sexually assaulted in California decades ago. But when they started coming forward, the statute of limitations for rape and other sex crimes in California was just 10 years.
"Rapists should never be able to evade legal consequences simply because an arbitrary time limit has expired," bill author and state Sen. Connie Leyva said when the law passed. "There must never be an expiration date on justice."
Michigan rewrites law thanks to Nassar's victims
It started with the bravery of Rachael Denhollander. It ended with Michigan trying to make sure child molesters won't get away with their crimes.
Many said they were children when Nassar molested them under the guise of medical treatment.
Nassar, 55, was sentenced to 40 to 175 years in prison in January.
But most of his accusers in Michigan couldn't bring charges against him. At the time, child sex abuse victims had to come forward before their 19th birthday.
Inspired by the courage of survivors like Denhollander —
the first woman to publicly accuse Nassar
of abuse — Michigan passed a law that gives child sex abuse victims more time to seek charges against their abusers.
Now, a criminal indictment for such cases can be filed within 15 years of the crime or by the survivor's 28th birthday — whichever occurs later, Lt. Gov. Brian Calley told CNN. (The statute of limitations for adult sex abuse victims remains six to 10 years, depending on the degree of the crime.)
Calley signed the new law in June, flanked by Michigan native Denhollander and other survivors of Nassar's abuse.
"We regard Rachael Denhollander as a hero over in these parts," Calley said.
Pennsylvania might change the law after priest abuse scandal
In a scathing report released last month, a Pennsylvania grand jury said it believes
more than 1,000 children were sexually abused
by hundreds of priests over the past seven decades. And those are just the cases it knows about.
"We believe that the real number of children whose records were lost or who were afraid ever to come forward is in the thousands," the grand jury report says.
Like many who said they were abused as children, Robert — now 83 — said he couldn't fathom going to authorities when he was 13 years old.
"Who would have believed me? (That) a priest, in 1948 or '47, would abuse you or do that?" he said.
The criminal statute of limitations for child sex abuse cases used to be just five years in Pennsylvania. Now child victims have until age 50 to seek prosecution, and until age 30 to file civil suits.
But the grand jury pushed for removing the statute of limitations for criminal cases because "no piece of legislation can predict the point at which a victim of child sex abuse will find the strength to come forward."
And state Rep. Mark Rozzi — himself a survivor of priest abuse — wants a two-year window during which any victim of child sex abuse could sue their abuser, regardless of how long ago the crime happened.
That idea won the praise of Shaun Dougherty, a New York restaurateur who said he was abused by a Pennsylvania priest as a child.
"The retroactive (civil lawsuit) window portion of the bill … would give somebody like me an opportunity," he said.
Read more: https://www.cnn.com/2018/09/27/us/sex-abuse-statutes-of-limitations/index.html
Related Product