Too many degrees 'offer too little payback'
Posted on : November 5, 2018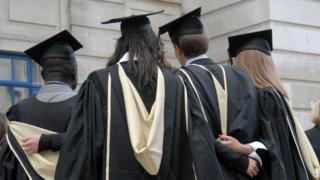 Too many graduates in England are being left with big debts for too little payback, MPs are warning.
Nearly half of recent graduates were not working in graduate roles in 2017, the Commons education committee says.
Its chairman Robert Halfon also highlights the excessive pay of some university vice-chancellors, saying that is not value for money.
The government is reviewing post-18 education and funding to see how it can ensure that value.
The Augur Review, which is due to report early next year, is looking at the system under which students take out tuition fee loans to fund courses costing £9,000 a year.
But the committee warned that the scope of this review, which has been limited by the government, means there is a risk it "will fail to overhaul the system" in a way that will benefit graduates and students.
The government has said the review's recommendations must be consistent with the government's fiscal policies, must not affect taxation or cover the earlier pre-2012 loans system.
Minister's own student rent bailout
Does it matter what degree grade you get?
Many earn 'paltry returns' for degrees
The report, Value for Money in Higher Education, said the committee was encouraged by an increase in information on the kind of outcomes graduates can expect.
But it warned: "The graduate premium varies greatly depending on where and what a student studies."
Mr Halfon said: "The blunt reality is that too many universities are not providing value for money, and that students are not getting good outcomes from the degrees for which so many of them rack up debt."
The report quotes a recent National Audit Office report which said bad decisions on courses could "lead to poor financial outcomes".
The MPs' committee report said: "There is still a long way to go before students have access to robust data on graduate employment which will inform their choices."
It points to Office for National Statistics data showing 49% of recent graduates were not working in graduate roles across the UK in 2017.
The report also highlighted how students from poorer backgrounds are far more likely than their wealthier peers to go to lower-ranking universities.
Here, opportunities for better-paid employment tend to be more limited.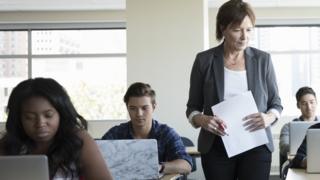 And it recommended: "Higher education institutions must be more transparent about the labour market returns of their courses.
"This is not simply a measure of graduate earnings but of appropriate professional graduate-level and skilled employment destinations."
It should be obligatory for universities to publish this information, it said.
Mr Halfon calls for strict criteria on acceptable levels of vice-chancellor pay to be enforced.
A new voluntary code covering senior staff pay was published by universities in the summer.
Under this code, institutions must provide meaningful explanations if pay diverges from the code.
Mr Halfon said: "Too many institutions exist where vice-chancellors and senior management earn excessive amounts that does not represent value for either the student or the taxpayer.
"Self-regulation should be out of the question, and the Office for Students must enforce strict criteria on acceptable levels of pay that could be linked to average staff pay, performance and other measures."
Related Product