Utah officer fired for forcibly handcuffing nurse who defied him
Posted on : October 12, 2017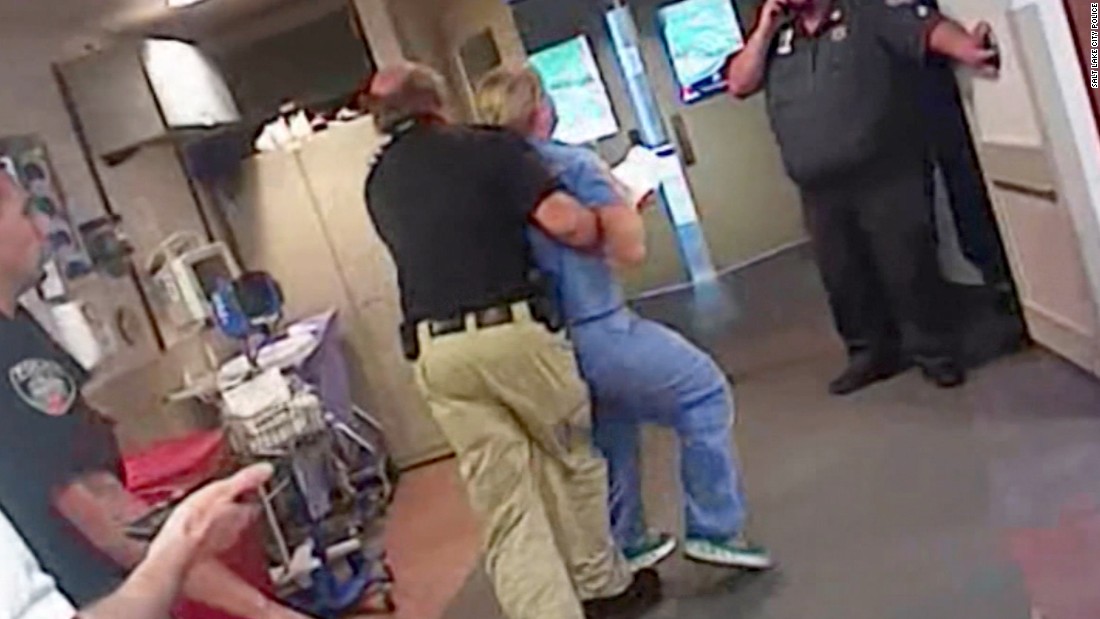 (CNN)A Utah police officer has been fired after he forcibly arrested a nurse who refused to let him draw blood from an unconscious patient in July.
In the police video of the incident,
Detective Jeff Payne
handcuffed Wubbels and placed her in a police car when she refused to allow officers to obtain a blood sample from a crash victim at the hospital without a warrant. Wubbels screamed for him to stop as he forced her out of the door and dragged her to a police car.
Minutes later, she was released without being charged.
The footage of the officer handcuffing and dragging the nurse spread online, renewing the national debate over excessive use of force by police.
Last month, an internal investigation found Payne and his watch commander Lt. James Tracey violated policies when they arrested the nurse.
Payne's attorney said the Salt Lake City Police Department dismissed his client and demoted Tracey to the rank of officer.
Police Chief Mike Brown notified Payne of the termination in a letter, attorney Greg Skorda said.
The police department declined to comment on the disciplinary action, but Salt Lake City's mayor applauded the firing.
"The decision … is in keeping with the high level of accountability we owe the people of Salt Lake City," Mayor Jackie Biskupski said in a statement. "In making his decision, I am confident Chief Brown balanced the unique stresses each of our police officers deal with daily, and the responsibility they have as leaders in our community."
Biskupski said the internal investigation found Payne violated several city and department policies, including those pertaining to arrests, ethics and officer conduct.
Wubbels' attorney, Karra Porter, said the detective's termination is not a surprise to anyone who watched the body cam footage.
"Fault at every level"
Skordas has acknowledged Payne made a mistake. However, he said, "there was fault at virtually every level."
Hospital policy specifies that to obtain a blood sample, police need a judge's order or the patient's consent, or the patient needs to be under arrest. The unconscious patient was not a suspect in the wreck that killed another driver.
In the police body cam video, Payne expressed repeated frustration after the nurse told him he would not obtain a blood sample.
Wubbels gave the officers a printout of the hospital policy for drawing blood and said their request did not meet the criteria.
When she defied the order to draw blood, Payne quickly walked over to her. The video shows Wubbels screaming for him to nstop as he forced her out the door toward a police car.
"I've done nothing wrong! I've done nothing wrong! Why is this happening? This is crazy," she said as she was led away.
In addition to his job as a police officer, Payne was also fired from a separate job as a
part-time paramedic
.
The unconscious patient, later identified as
Bill Gray, died September 25
, the Rigby, Idaho, Police Department said. Gray was a reserve officer for the Rigby police. He was driving a truck — his fulltime job — when the accident occurred.
Read more: http://www.cnn.com/2017/10/11/health/utah-officer-fired-after-nurse-arrest/index.html
Related Product